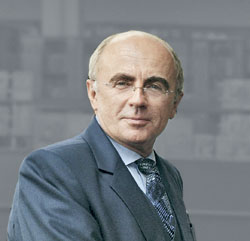 Dear friends,
I am pleased to introduce our University to you.
St. Petersburg University of the Humanities and Social Sciences (SPbUHSS) has almost a century-long history. Today SPbUHSS is one of the leading universities in higher humanitarian education in Russia. A degree obtained at our University signifies high professional status and excellent career opportunities. This is proved by the statistics: our graduates' employment rate is 99.9%.
The work of SPbUHSS is based on the culture-centered model of education and on the inseparable unity of teaching and upbringing. Here our students not only get professional knowledge that corresponds to international standards, but are also introduced to the best samples of world culture, and are shaped as versatile harmonious personalities.
Our University is located in the cultural capital of Russia - St. Petersburg – the city of theatres, museums and palaces, that is included into the UNESCO World Heritage List. It will take you about 15 minutes to get from the University to the city center. This contact with the world of art and culture contributes a lot to the moral and intellectual development of our students.
We are sure that the future of Russia must be in the hands of thoroughly educated and cultured people. Only citizens like this can guarantee its decent future. The mission of our University is to prepare the professional elite of Russia.
Dear friends, I invite you to cooperate with us and look forward to welcoming you to our University!
Yours sincerely,

Prof. Dr. Alexander S. ZAPESOTSKY
Rector of St. Petersburg University of the Humanities and Social Sciences,
Corresponding member of the Russian Academy of Sciences,
Academician of the Russian Academy of Education,
Scientist Emeritus of the Russian Federation,
Honored Artist of Russia